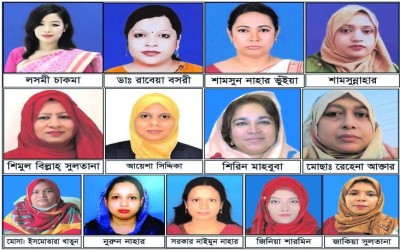 These 13 women officers are the heads of various departments of Paba Upazila of Rajshahi who are running their respective offices with honesty and efficiency. If you don't see it with a bird's eye, you can't understand it. They have already gained reputation and fame by contributing to their respective offices at the field level in the construction of Sonar Bangla. Demonstrated efficiency. All of them are closely involved with the overall development activities of the government to build a better Bangladesh. All departments of upazila administration are working to implement special initiatives of the government. Their joint leadership will be Smart Bangladesh. These 13 government women officials have already shown their qualification and skill level by performing their duties and responsibilities properly in addition to managing the house and family.
Lasami Chakma Upazila Executive Officer – Lasmi Chakma is a resident of Khagrachari district headquarters. He completed his graduation and post graduation from Chittagong University Department of Political Science. Later appeared in BCS examination and got appointed in 33rd BCS (Administration) cadre. Joined the service in 2014. Serving as Upazila Nirbahi Officer, PABA, Rajshahi from October 2021. Before that, he was working as Senior Assistant Secretary in Ministry of Water Resources of Bangladesh Secretariat. He also served as Senior Assistant Commissioner and Executive Magistrate in the Office of the Deputy Commissioner, Rajshahi. Since his accession, the government services have been brought to the doorsteps of the people and taking action immediately upon receiving complaints of corruption and harassment and conducting mobile courts, conducting public hearings to investigate and settle local disputes and general grievances, inspecting educational institutions to improve the quality of education, providing various allowances, among others. , coordinating the development work of the government with various departments and working on the ongoing supervision and implementation of the shelter project. Paba Upazila has been selected as a pilot upazila by the Council of Ministers Department as a result of the efforts to establish integrity and ethics under his efficient leadership. Paba Upazila also received the departmental best award in sports and cultural arena. The office doors are open to the general public so that service users can speak directly. Law and order control, bazaar management and development of communication system, training system for municipal and union council representatives to increase their skills, encouraging people to prevent dowry, child marriage, drugs, terrorism and militancy, eve teasing, women abuse to maintain social harmony and eliminate problems. Implementing the program. Upazila Executive Officer Lasmi Chakma said, I am working to deliver the government services to the doorsteps of the people as a servant of the people to continue the development in the hope of building a happy and prosperous Bangabandhu's Sonar Bangla. This requires everyone's cooperation.
Dr. Rabeya Basri Upazila Health and Family Planning Officer – Dr. Rabeya Basri is a resident of Uttara in Dhaka Sadar. Completed MBBS from Shaheed Mansoor Ali Medical College. Passed BCS (Health) in 2010. In 2010, he joined Debiganj Upazila Health Complex of Panchagarh District as Assistant Surgeon. After that he served in cardiology department at Netrakona Hospital and later Mugda 500 Bed General Hospital, currently serving as Upazila Health and Family Planning Officer at Paba Upazila Health Complex. Since assuming charge, the doctors and nurses of the health complex have been providing regular services to the patients in the emergency and outpatient areas under the efficient management. As the quality of health care has improved, the number of delivery patients from various unions of the upazila to outpatients and emergency departments has increased. Added GA machine, X-ray machine, ECG machine, soccer machine and various blood test equipment. Operation theater and delivery center with cesarean, operation, ultrasonogram and round-the-clock normal delivery. Also, various services including high blood pressure, diabetes patients free care and medicine, vision, VIA, tuberculosis and leprosy center, EPI program, family planning system are also available at NCD corner. He also improved the environment and infrastructure of the complex, doctor's quarters, CC camera system, field renovation and construction of gates and boundary walls. In recognition of good work, he received the best worker award at the district level. Dr. Rabeya Basri said, 45/50 patients are always there even though it is a 31-bed health complex. Every day from 8:30 am to 2:30 pm 6/7 hundred patients come for outdoor services. During the Corona period, I worked in coordination with the staff to ensure the health care of two to three thousand patients in the emergency department every day. We are working according to the plan to deliver healthcare to the people and improve the quality of service with the united efforts of all the doctors and health workers. He is hopeful that development will continue with the overall cooperation of local parliamentarians and civil surgeons, upazila administration, local public representatives.
Samsun Nahar Bhuyan Upazila Agriculture Officer – Shamsun Nahar Bhuiyan, a resident of Thakurgaon district headquarters. Bangabandhu Sheikh Mujibur Rahman completed his graduation and post graduation from Genetics and Plant Breeding Department of Agricultural University. Passed 29th BCS in Agriculture. In 2011 he joined Nawabganj Upazila as Agriculture Extension Officer and in 2016 as Puthia Upazila Agriculture Officer after being promoted. At present he has served in Paba Upazila. Since taking charge, he has been promoting mustard, potato, banana, maize, wheat, onion, high-yielding new varieties of rice, field visits to increase food production, advice and overall cooperation to farmers in various ways and use of organic fertilizers. Discussion with farmers at the field level for using advanced technology in agriculture to produce three crops on two-crop land and four crops on three-crop land. Cultivable land in home garden, increasing women's skills in agriculture, safe crop production, bringing uncultivated fallow land under cultivation, planting new crops in remote pasture areas and increasing cultivation intensity, increasing cultivation of nutritious crops, constant communication with farmers as a woman officer in extension of new varieties, consultation He is working on cooperation and implementation of government directives. Shamsun Nahar Bhuiyan said, 'I want to fulfill the responsibility assigned to me with honesty and reputation. It requires everyone's cooperation.
Shamsunnahar Upazila Rural Development Officer– Shamsunnahar is a resident of Tano Upazila of Rajshahi. He completed his graduation and post graduation from Rajshahi College Department of Geography and Environment. In 2011, he joined Bagha Upazila as an upazila rural development worker. Currently working in Paba Upazila. After assuming responsibility, he has been successfully carrying out his official duties including creation of human organization, skill and development training, development of rural leadership and empowerment of women, implementation of development projects related to rural development and poverty alleviation. He is providing support and advice for training and employment in improving the skills of poor women and men in marginal villages with the aim of creating entrepreneurship. As a result of financial entrepreneur loan assistance under easy terms in official services, grocery stores, poultry farms, cattle fattening, tailoring, flower farming, vegetable business, fish farming, agriculture have been involved in various professions. Many families are financially stable and socially established as a result of employment. Shamsunnahar said, 'Women should not be seen separately. Women can also contribute in all fields, for this we want cooperation.
Shimul Billah Sultana Upazila Women Affairs Officer- Shimul Billah Sultana is the daughter of Sirajganj district headquarters and currently a resident of Rajshahi City Corporation. Graduated from Rajshahi University Department of Economics and Post Graduate and B.D. and M.Ed from Rajshahi Teachers Training College. In 2001, she joined Badalgachi Upazila of Naogaon District as Upazila Women Affairs Officer. After that Chapainawabganj-Shivganj, Pabna-Santhia, Natore-Singra upazila, Rajshahi's Godagari, Bagha, Charghat and currently serving in Paba upazila. Since joining, she has been working to raise awareness about the establishment of family rights of women, child marriage, dowry, eviction, prevention of women abuse through courtyard meetings and implementation of various development programs of the government. Also imparting training in fashion design (dress making and block batik) and crystal show-piece and decorated candle making to women skills, providing food assistance and storage to underprivileged needy families at union level under VWB program and cultivating vegetables, poultry, cows Providing training in husbandry, providing allowance to poor working pregnant and lactating mothers under Municipal Lactating Mother Program, providing child care, child health food and nutritional awareness training, providing training in music, clothing, martial arts and gender under Kishore Kishori Club project, education The institution is carrying out various programs including parent gatherings efficiently. Shimul Billah Sultana said, 'Many women are still neglected in our society. Girls can do a lot if they get support from every family. This is why it is very important for women to stand on their own feet.
Ayesha Siddiqa Sub-Registrar – Ayesha Siddika is a resident of Phulpur Upazila of Mymensingh district. He completed MS from Department of Pathology, Bangladesh Agricultural University, Mymensingh. Passed 29th BCS Non Cadre. Joined Mohanpur Upazila as Sub Registrar in 2012. After that he is working in Sunamganj, Mymensingh, Sylhet and currently Paba upazila. Since taking charge, he has been running the office on time with efficient leadership with integrity. He is efficiently managing the activities of registration of documents, delivery of documents, delivery of duplicates, collection of revenue, inspection, delivery of duplicates of documents, provision of information related to transfer of property, preparation, registration. Ayesha Siddika said, I love to work, I am committed to build Bangabandhu's golden Bangladesh and Honorable Prime Minister Sheikh Hasina's smart Bangladesh and join the development.
Shireen Mahbuba Upazila Secondary Education Officer – Shireen Mahbooba is a resident of Rajshahi Sadar Boalia. He completed his graduation and post graduation from the Department of Sociology, Rajshahi University. Joined Mohanpur Upazila as Upazila Secondary Education Officer in 1994. After that he is working in different upazilas including Sirajganj Sadar, Durgapur of Rajshahi, Charghat and currently in Paba upazila. Since joining secondary and higher secondary schools, colleges, madrasas, technical and BM colleges including private educational institutions to preserve and improve the quality of education, distribution of free textbooks from sixth to degree, providing stipends to poor and indigent students through online mobile, academic and administrative supervision. and inspections, teacher training, information updating, recruitment of teachers and staff, surveys, investigations, use of technology in education, co-curricular activities, training to enhance technology and subject-based experience and skills of teachers and education officers, various examination related and sports and cultural competitions, He is working on the implementation of programs taken by the government, including educational fairs and weeks, mother and parent gatherings to raise public awareness against terrorism and militancy, child marriage.
Mrs.Rehna Akhter Instructor-Upazila Resource Centre – Resident of Chapainawabganj Sadar Mocha: Rehena Akhtar. He completed B.Sc from Rajshahi University and M.Sc from Department of Zoology. Joined Durgapur Upazila as an instructor at Upazila Resource Center in 2003. After that he is working in various upazilas including Boalia, Godagari of Rajshahi and currently in Paba upazila. He has been involved in quality improvement of primary education by visiting classrooms of young children, subject-based academic supervision to improve the professional skills of primary school teachers, school management, pre-primary education, integrated education, TSN, curriculum expansion, sub-cluster leaflet preparation and training, newly recruited Organizing and conducting and implementing basic training of teachers, observation, mocking scheme etc. He was selected as the best instructor at the district level in 2018 as a reward for performing duties efficiently and for good work
Mrs. Ismotara Khatun, Upazila Assistant Programmer Officer – Mosa resident of Bagha Upazila of Rajshahi: Ismotara Khatun. He completed his graduation and post graduation from the Department of Information and Communication Engineering, Rajshahi University. In 2016, he first joined Chapainawabganj Sadar No. 63 Lakshi Narayanpur Government Primary School as an assistant teacher and later in 2018 as an assistant family planning officer in Badalgachi Upazila of Naogaon district. After changing jobs, he joined Bagmara Upazila as Upazila Assistant Programmer Officer in 2020 and is currently working in Paba Upazila. Building quality education data and statistics under the banbase of the Ministry of Education, digital information management, ICT training and ICT training for secondary and higher secondary teachers in ICT education, education survey, unique ID, multimedia lab visit and consultation, training to increase teachers' skills, Working efficiently in online live classes and management. There are also plans to provide ICT training to primary school teachers and freelancing training to unemployed men and women.
Nurun Nahar Upazila Senior Officer and Branch Manager – Rural Savings Bank. Nurun Nahar is a resident of Shibganj upazila of Chapainawabganj district. He completed his graduation and post graduation from the Department of Philosophy, Dhaka University. Joined Shibganj Upazila in 2011 as upazila coordinator in one house one farm project. After being promoted in 2018 as officer general in Mohanpur upazila and in 2022 as senior officer and branch manager in Palli Acumin Bank Paba upazila branch. Since joining the Prime Minister's special initiative to ensure the economic liberation of people through poverty alleviation, A Bari A Khar Project, Palli Samchi Bank and Amar Bari Amar Khar Project have been working with the aim of increasing the income of the families in the marginal towns of the upazila and increasing the number of individuals, creating entrepreneurs and creating employment. In order to increase the financial capacity of the members, providing loan facilities on easy terms in various sectors including SME, cattle rearing, poultry rearing, fisheries, agriculture and vegetable cultivation, nurseries, monitoring, screening, office management, training and cooperation of members and staff. and giving advice. The members are involved in multiple professions to ensure their financial freedom by utilizing the loan money in income-generating activities. Women are also involved in earning, entrepreneurship and employment are created.
Sarkar Naimun Nahar Managers, Senior Chief Officers – Rajshahi Agricultural Development Bank. Sarkar Naimun Nahar is a resident of Bagha Upazila of Rajshahi. He completed his graduation and post graduation from Rajshahi University Department of Social Work. Joined Youth Development Directorate Rajshahi in 1999 as computer instructor. Then he changed his job and joined Rajshahi Agricultural Development Bank in 2000 from BRC Recruitment as Officer, Paba Branch (Nodapara). After being promoted as Senior Officer in 2011, as Principal Officer in 2015 as Second Officer and in 2021 as Manager (Senior Chief Officer) working in Kharkhari branch. Naimun Nahar has earned a great reputation for customer service since taking charge of this branch. After taking charge, he is providing banking services to everyone, including senior citizens, in a timely manner. Loan disbursement has been increased in the branch than before. On the other hand classified loan collection achieved the target of 113% which is quite satisfactory. Helped small women entrepreneurs to become self-reliant in various ways by providing loans. He has been performing his duties with prudence and success. Sarkar Naimun Nahar said. After taking charge the branch achieved three times the profit compared to the previous year. He is hopeful that he will do well this time with everyone's cooperation.
Jinya Sharmin Information Service Officer– Jinia Sharmin is a resident of the suburbs of Rajshahi. Completed BSc Engineering (Graduate) from Barendra University Department of Computer Science and Engineering. In 2018, she joined Paba Upazila as an information service officer in the project of empowering women through information and communication technology. With the aim of building a smart Bangladesh, women's participation in economic activities through the use of information technology to advance the projects announced by the government, easy confirmation of the services of various government departments of rural backward women, awareness of gender, yard meetings, dowry, family violence, women abuse and child marriage to make helpless and underprivileged women aware. He is working to provide legal assistance. Also in primary health care free blood pressure and diabetes test, weight and height measurement, blood oxygen measurement and body temperature test, job related information through internet at the information center, examination form filling and results, online based e-commerce, e-learning, webportal, in the expansion of information technology based services. Through e-mail, video conference, red-green platform for business affairs, the products produced by rural women entrepreneurs are being uploaded and sold on the online page, information services are being worked on by creating public awareness and solving various daily problems.
Zakia Sultana Upazila Development Facilitator (UDF) – Zakia Sultana is a resident of Puthia Upazila of Rajshahi. He completed his Masters (MSS) from the Department of Economics, Rajshahi University. In 2013, he joined the United States Agency for International Development (USAID) as a Monitoring Officer in Dhaka. After that, in 2017, he joined the Upazila Governance and Development Project (UGDP) as Upazila Development Facilitator (UDF) in Bagatipara and Nator headquarters and is currently serving Paba and Charghat upazilas. Since assuming office, he has been working to facilitate upazila parishads by providing support for good governance and proper utilization of development funds from Japan International Cooperation Agency (JICA). Through the Upazila Parishad, he is working on communication system and implementation cooperation and planning with various related departments for capacity development training and development work management.